Our Products
---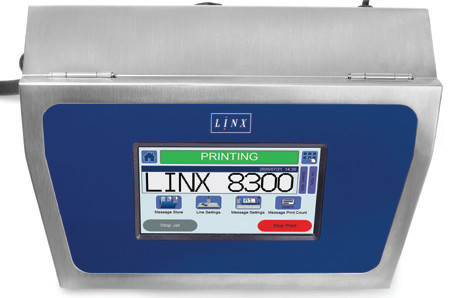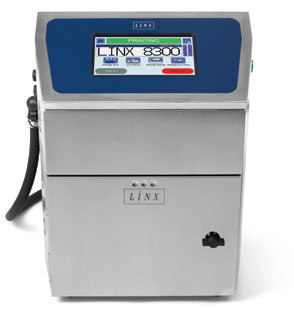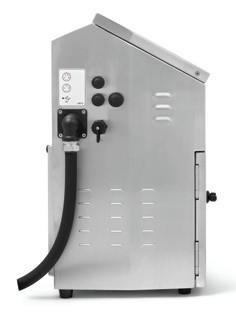 LINX 8300 PRINTER
Superior Reliability
Reliable and hassle-free operation delivered by consistent printer performance at a wide range of temperatures
Flexible service with minimal service interventions to fit around your production schedule, helping to reduce maintenance cost.
Clean starts provided whenever you need to print with automatic printhead cleaning, controlled by you.
Simple Operation
Quick and easy code setup and selection using a large, high-resolution, colour touch screen with icons which are easy to understand and operate to withstand your manufacturing environment.
Simple message changes for fast editing when changing batches or products, no need to re-type messages or navigate through multiple screens.
Easy fluid refills completely mess-free and mistake-free fluid refills during printing using septum sealed cartridges.
Consistent Performance
Future-proof capability enabling you to print up to 420 products a minute with clear and readable codes.
Long-lasting printed codes on a wide range of materials with a range of fast drying inks.
Consistent print quality achieved by automatically adapting to changing environmental conditions.
---

---
Key Features

Prints up to 3 lines of text, numbers, barcodes and logos.

Quick and easy code set up and selection.

Fast, mistake-proof editing.

Suitable for a wide range of environments.

Clean starts with automatic printhead cleaning.

Consistent print quality.

Range of fast drying inks.

Quick-change mess-free, mistake-proof fluid cartridges.

Printed character sizes from 2 to 7.5mm to meet your coding requirements.

Easy to install.

Flexible service.
Physical characteristics

8" colour touch screen

Stainless steel enclosure and printhead cover

IP43 environmental protection rating

2m conduit as standard with 3m option

Weight 16kg (including fluids)
Printing capability

Up to 3 lines of text, symbols, numbers, barcodes and logos

Data Matrix codes

Character height from 2mm to 7.5mm

Maximum print speed 2.5m/s (single line of code)
Programming features

Simple message creation and editing with drag-and-drop field positioning

Automatic date forwarding (for printing expiry dates)

Sequential number printing

USB port for copy and back-up of message and printer settings, and for easy transfer of messages between printers

Message store of up to 100

Output measurement on screen